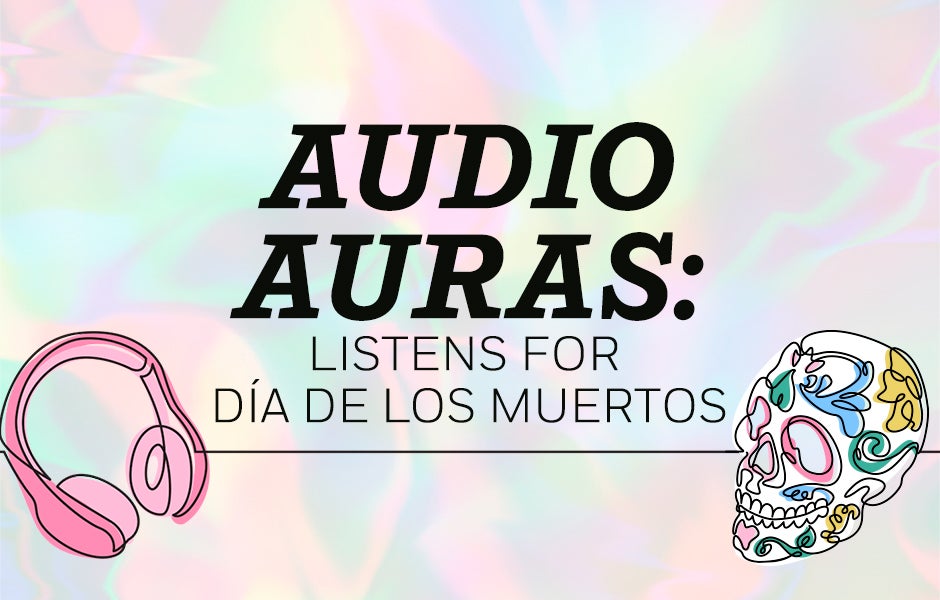 ---
Welcome back your Audio Aura gurus Rebecca and Victoria, a pre-production assistant and associate who coordinate the logistics behind our audio titles by day and curate playlist matchmaking by night! This time of year, we celebrate the beauty of nature's life cycles, and marvel at the gorgeous foliage and changing of the seasons. Endings are often connected with sadness, but they can bring gratitude and joyful memories as well.
El Día de Los Muertos is a holiday celebrated throughout the Latin diaspora on November 1st and November 2nd, when it's believed the spirits of our loved ones return home to us. Families build altars, decorate with marigolds, candles, photos, and offerings of favorite food and drinks. It's a joyful holiday centered around grief, an emotion often associated with sorrow and darkness, and is celebrated as a time for reflection.
In honor of Día de Los Muertos, we've selected a few audiobooks that focus on different forms of grief and various ways of processing difficult emotions. Hear these audiobooks read directly from the authors, as they narrate their own stories with sensitivity and compassion. Each author below has participated in the This Is the Author podcast, sharing outside the recording studio perspectives on how they interpret and process grief.
---
Grieving the absence of a relationship
Nabil Ayers is an accomplished musician and a music producer, but his story doesn't start there. Ayers was raised by a Jewish ballerina mother who decided to have a child with funk composer Roy Ayers, with the understanding that Roy would not take part in raising the child. Growing up, Nabil had almost no relationship with his father, but his predisposition for music and his racial identity would continue to tie the two together. In My Life in the Sunshine, Nabil recalls his childhood, depicts the powerful influence of music on his life, and processes his relationships with his family and the absence felt by the lack thereof. Nabil explores the intersection of family, race, and music and how they combine to create his story.

On the podcast: Nabil Ayers, Kathleen Buhle, and Jake Keiser
---
Grieving at the end of life
Hospice Nurse Hadley Vlahos faces death every day. Her first major encounter was the untimely death of her high school classmate, which changed everything she knew about the world and what she believed to be the standard order of our lives. Soon after, Vlahos left her strict Christian home for college and became pregnant. While working as a nurse to provide for herself and her daughter, Vlahos found a calling in hospice care which, contrary to medicine, prioritizes comforting over curing. Vlahos describes herself as "death positive" and explains how facing grief head on can alleviate fears and anxieties centered around dying. Through stories of her patients, Vlahos details the beauty of providing support and love through the end-of-life-journey, and teaches listeners that the value of care reaches beyond medical tasks.

On the podcast: Christian Cooper, Hadley Vlahos, and Dr. Joy Harden Bradford
---
Generational grief
Ocean Vuong's debut novel tells the story of Little Dog, a Vietnamese refugee living in Connecticut. The book is formatted as a letter written to his mother, who cannot read. Through this letter, Little Dog acts as an interpreter–communicating truths to his mother that otherwise could never be said. His mother and ancestors lived in Vietnam, and the pain they experienced in their homeland is carried with them and passed down to Little Dog, coloring his life and experiences in the United States. Vuong's background in poetry shines through his writing and his narration as he weaves grief, ancestral trauma, love, and fear together into a beautifully devastating listen.

On the podcast: Ocean Vuong, Jamil Zak, and Winona Guo & Priya Vulchi
---
Grieving a community
Grieving a parent, a friend, a community, and what could have been–Monica Potts tackles multiple forms of grief in her memoir, The Forgotten Girls. Intrigued by the devastating losses experienced in rural America, Monica uses her background in journalism and  her adolescence in Arkansas to expertly examine the root causes of declining life expectancy in the least educated American populations. Potts reconnects with a childhood best friend who once shared Potts' ambition and drive, but whose life took a drastically different course. Through nuance, empathy, and passion, Potts explores the cost of financial hardship and poverty to tell the human stories beyond the statistics.

On the podcast: Monica Potts, Kountry Wayne, and Elisabeth Sharp McKetta
---
Grieving a parent
Michelle Zauner is the lead singer and guitarist of the indie pop band, Japanese Breakfast. Prior to becoming a New York Times Bestselling author, Zauner cared for her terminally ill mother in Eugene, Oregon. This return to her hometown ignited an identity eruption for Zauner. Prior to Zauner's return to home, she felt disconnected from her Korean identity –  from being one of the few Asian American students at school to spending months with her aunts and grandmother in a small apartment in Seoul, South Korea to stumbling over the Korean language while grappling with her mom's lifelong high expectations for her. Reminiscing on those memories, she was reminded how her Korean heritage was shared through her maternal family's admiration for Korean food. Despite not being fluent in Korean or being raised in South Korea, food was the unifying force on  her maternal side. Zauner's memoir, Crying in H Mart, simmers with reconciliation and grief between maternal figures, identity and love for Korean cuisine.

On the podcast: Patrick Radden Keefe, Mira Sethi, and Michelle Zauner
---
Grieving a friend
While in college, Hua Hsu met his best friend. Ken was a Japanese American whose family had been in the U.S. for generations, while Hua was the first generation son of Taiwanese immigrants. While Ken embraced the early aughts culture of Hollister and alternative rock, Hua crafted zines and toured through record stores. However, both realized despite their interests, the friends could not fit into mainstream American culture. The best friends bonded over aimlessly driving along the California coast chit chatting, day in and day out. Horrifically, Ken was killed in a carjacking a few years into their friendship. After Ken's death, Hua composed, Stay True, a coming-of-age memoir  about familiarity, connection and grieving one of his closest friendships. Hsu's writing highlights the positive lifelong impact of male, Asian American friendships so vividly and honestly.

On the podcast: Hua Hsu and Tea Hacic-Vlahovic
---
Grieving a home
Javier Zamora embarked on a journey to reunite with his mother and father in the U.S. from El Salvador at the age of nine. In Solito, Zamora recounts traveling with strangers through treacherous heat, a chaotic boat ride, and guns aimed at him and other migrants. Throughout those horrific conditions, the fellow migrants protected and treated him as family. This solidarity and kindness helped Zamora to reach his destination. As an adult, Zamora reflects on the U.S.- funded Salvadoran Civil War that displaced him and his family from their home in El Salvador and reclaims what home and identity is to him. His fellow migrants' communal mindset ensured his safety while he grieved what home was and what it could come to be.

On the podcast: Sandra Cisneros, Hayley Arceneaux, and Javier Zamora
---