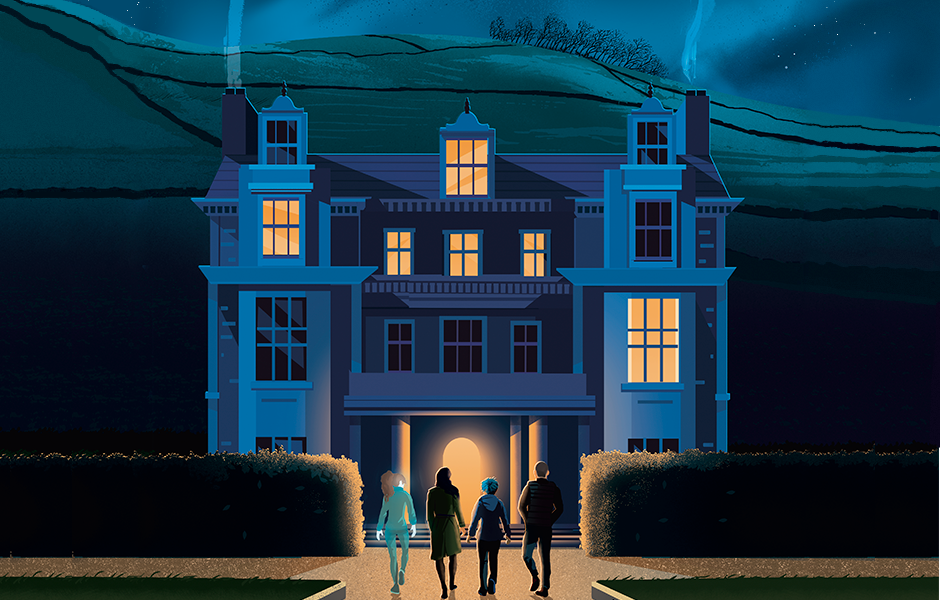 ---
Sometimes, all I want to do is curl up by the fire—or a space heater, because I don't have a chimney—drink some hot chocolate and read a classic whodunnit. Or better yet, immerse myself in a cozy mystery on audio! For my fellow armchair sleuths, here are some of the coziest and most mysterious audiobooks to listen to this season.
Grave Expectations by Alice Bell
Behind you, a ghost! Grave Expectations is a fast-paced and hilarious debut crime novel, in which a burnt-out millennial medium must utilize her ability to see ghosts and team-up with a band of oddball investigators to figure out which member(s) of a posh English family are guilty of murder. Between irregular detective work involving stealing a priest's cassock and getting too drunk to remember to question your suspect, will the crew overcome their own incompetence to find the murderer? Tune in to find out!

---
Murder and Mamon by Mia P. Manansala
Mouthwatering dishes, opinionated aunties, and a dead body—this should spell out a recipe for disaster, but nothing will stop amateur sleuth Lila Macapagal from solving her next case. When murder mars the grand opening for Lila's aunties' new laundromat, she will have to air out all the dirty laundry in Shady Palms to catch a killer. Pair this listen with your favorite hot drink and sweet treat to get the full experience!
---
Twilight Falls by Juneau Black
If you're mad about cold weather, take a little trip to Shady Hollow, where it's spring and romance is in the air. Even Vera Vixen is caught up in the season as her relationship with police chief Orville Braun blossoms. But true love is not always smooth sailing, as two of the hollow's young residents come to find. Jonah Atwater and Stasia von Beaverpelt find themselves battling with their families to be together. And when Jonah's father goes over the top of Twilight Falls, all signs point to Stasia being the murderer. But Vera isn't so sure. Tensions rise when Orville arrests Stasia and Vera's sleuthing puts her in direct opposition to her lover.
---
Last Word to the Wise by Ann Claire
Sisters Ellie and Meg Christie share a love of books, reading, and their new roles as co-caretakers of the Book Chalet, their family's historic bookshop tucked midway up a scenic Colorado mountain. But romance? That's another story. The sisters' cousin attempts to set them up for blind dates, but when Meg's match stands her up, she doesn't know that he has a good reason—he's dead. Romance may not be Ellie and Meg's forte, but hearts and lives are on the line, and the Christies know how to solve a mystery—especially when murder is involved. Listen to how Ellie and Meg risk it all for their family and restore their good name in their little town of Last Word.
---
I Heard a Fly Buzz When I Died by Amanda Flower
Throwback to August 1856! The Dickinson family is delighted when famous thinker and writer Ralph Waldo Emerson comes to Amherst to speak at a local literary society and decides he and his young secretary, Luther Howard, will stay with Emily Dickinson's brother. Emily has been a longtime admirer of Emerson's writing and is thrilled at the chance to meet her idol.  But then the secretary turns up dead in the Dickinson's garden. Emerson demands answers. Emily and her housemaid Willa set out to find them in order to save the Dickinson family reputation and stop a cold-blooded fiend from killing again. I love it when strong women band together, not only to prove themselves but to protect their loved ones. This is an exciting, female-sleuthing story you'll want to tune in to!
---
West Heart Kill by Dann McDorman
This is not your ordinary whodunit novel. An isolated hunt club. A raging storm. Three corpses, discovered within four days. A cast of monied, scheming, unfaithful characters. And you, dear listener, are the missing piece of the puzzle. Can you solve the case of the West Heart Club murders? Join private detective Adam McAnnis and see if you have what it takes!
---
The Other Half by Charlotte Vassell
A black-tie dinner! Swanky guests! And—wait a minute, whose shoe is that? Rupert's 30th birthday party is a black-tie dinner catered with cocaine and expensive champagne. The morning after, his girlfriend Clemmie is found murdered on Hampstead Heath, a single stiletto heel jutting out from under a bush. But who killed her? Naturally, all the partygoers have alibis. This investigation is going to be about aristocrats and Classics degrees, Instagram influencers and whose father knows who. Or is it "whom"?  Detective Caius Beauchamp will have a run for his money with this case.
---
The Penguin Book of Murder Mysteries edited by Michael Sims
For our classic murder mystery lovers, this one's for you! A scintillating anthology of lost treasures to read alongside Edgar Allan Poe and Sherlock Holmes, The Penguin Book of Murder Mysteries celebrates how the nineteenth century added a fierce modern twist to the ancient theme of bloody murder. Listen to stories never-before reprinted, featuring rebellious early "lady detectives" and spotlighting former stars of the crime field.
---