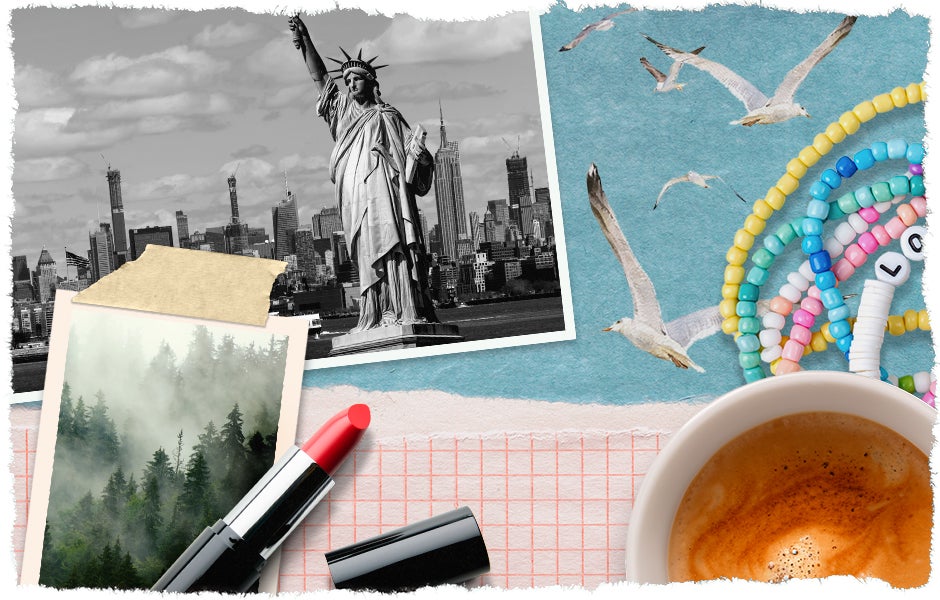 ---
Calling all Swifties! Have you ever listened to a song by Taylor Swift and thought, "This reminds me of my favorite book"? Us, too! While you're bopping along to Taylor's newest re-recording, 1989 (Taylor's Version), here are some audiobooks that we think totally match this album's big feelings.
"Welcome to New York"
At some point in our lives, like Taylor, many of us have romanticized living in New York City. Times Square, Central Park, Greenwich Village… even the subway seems magical under the lens of Taylor Swift's songwriting. Modern Love captures the vast array of feelings through a series of unforgettable essays from the New York Times "Modern Love" column. Like moving to a new city, falling in love can be enthralling, making this the perfect audiobook to listen to whether you're wandering around New York or your hometown.
---
"Blank Space"
If you've ever captioned any of your social media posts with "Darling, I'm a nightmare dressed like a daydream", then you truly understand Taylor's most iconic satiric bop. The character in the song, an unhinged serial dater, is the perfect match for Korede's sister, Ayoola, in My Sister, the Serial Killer. Ayoola is many things: beautiful, smart, funny. The only downside is that she probably is a serial killer, as Korede discovers after Ayoola's third boyfriend in a row turns up dead. Sometimes, nightmares dressed as daydreams leave a bit a more of a permanent mark.
---
"Style"
With its 80s synth and nostalgic lyricism, "Style" is (in this writer's not-so-humble opinion) pop perfection. While Taylor likens fashion trends to a romantic relationship, self-love is also something that never goes out of style. Take Aurora James's word for it in Wildflower, her memoir about her rise in fashion as the first Black female designer to win a Council of Fashion Designers of America Award. An empowering and inspirational American "success story", Wildflower shows that true style is more than just fashion trends.
---
"Out of the Woods"
The drums. The chorus. The bridge. What song encapsulates anxiety quite as well as "Out of the Woods"? If that edge-of-your-seat thrill is what you can't get enough of, then The House in the Pines is the audiobook for you. A heart-pounding thriller about a woman who long ago witnessed her friend's sudden, mysterious death, and is now searching for the answers, this book will keep you wondering whether you're out of the woods and in the clear until the very last sentence.
---
"All You Had to Do Was Stay"
There's nothing quite like the idea of a second chance romance. Ask Taylor Swift, who grapples with the idea of taking back someone who didn't stay. Enter Once More with Feeling from the bestselling author of Funny You Should Ask. With a swoon-worthy romance between a pop star and boyband member, this story might sound a little familiar to those who spend a bit too much time going down the Taylor Swift dating history rabbit hole.
---
"Shake It Off"
A global sensation, "Shake It Off" was the first massive hit off 1989. Taylor's incredibly tongue-in-cheek anthem about self-love still has us dancing everywhere from wedding receptions to her sold-out Eras tour. But sometimes we need to dive a little deeper to find our true Self. In It's On Me, Sara Kuburic provides a guide to discovering the freedom that comes from taking responsibility for how we love.
---
"I Wish You Would"
"You always knew how to push my buttons. You give me everything and nothing." If Happy Place had been released back in 2014, I would have thought Taylor was picking Emily Henry's brain. Harriet and Wyn broke up five months ago, but still haven't told their best friends. Now they are forced to share a bedroom at the Maine cottage that has been their friend group's yearly getaway for the last decade. They attempt to live the lie that they're the happy couple, while also lying to themselves about their residual feelings for one another. You couldn't find a better Taylor Swift-themed romance if you tried.
---
"Bad Blood"
The title of this audiobook alone should be reason enough for why it's paired with Taylor's angry banger. But if you need a bit more convincing, then what says "bad blood" as much as a little bit of murder? In Holly Jackson's sequel to A Good Girl's Guide to Murder, more dark secrets are exposed as Pip investigates another murder in her small town.
---
"Wildest Dreams"
In her dreamy music video for "Wildest Dreams", Taylor shows the story of two actors who have undeniable chemistry onscreen but whose off-screen relationship is less than glamorous. If you're looking for a whirlwind Hollywood romance, Will They or Won't They is an enemies-to-lovers tale between two television actors whose characters are madly in love, while they can't stand each other IRL. But under pressure to give their characters a happy ending, perhaps they end up finding one of their own.
---
"How You Get the Girl"
In Taylor Swift's world, getting the girl should be easy. Apologize, tell her she's all you want, stand out in the rain for her. Sounds romantic, no? Unfortunately, the reality is a little trickier, as Iris Kelly knows all too well in Ashley Herring Blake's heartfelt romantic comedy. Iris doesn't think relationships are for her, even though she spends all her time writing about them as a romance author. But she soon finds herself headfirst in a fake relationship after a horrible one-night stand, and she begins to wonder if getting the girl might be something she wants after all.
---
"This Love"
"These hands had to let it go free, and this love came back to me." Angsty love songs are Taylor Swift's M.O., and "This Love" has met it's match in Paige Toon's Only Love Can Hurt Like This. An unforgettable and heartbreaking love story with an earth-shattering secret at it its core, it asks the question: Is love worth risking everything for? Taylor Swift would say yes, but you'll have to listen to see if Paige Toon agrees.
---
"I Know Places"
While Taylor was thinking about how to hide a relationship from the public eye with this song, I think it also makes perfect sense as a song for a thriller, and Friends Like These matches this perfectly. When a girl goes missing at a party, everyone is a suspect and sometimes hiding means keeping secrets, even if it threatens to destroy everything you know. Who are the hunters and who are the foxes? You'll have to listen to find out.
---
"Clean"
"Clean" is about moving on and letting go. Perhaps that means letting go of a toxic ex, but sometimes that means getting rid of a toxic mindset. At the age of 24, Matt Haig could see no way to go on living. This is his true story about how he learned to overcome crisis, triumph over an illness, and learn to find joy in life again. A memoir about making the most of your time on earth, Haig shows that time heals all wounds and might, in the end, make you clean.
---
"Wonderland"
If Taylor Swift can use Alice in Wonderland to tell a story, so can we. In Alice by Heart by Tony Award-winning playwright Steven Sater, a young girl takes refuge in a London Tube station during WWII and confronts grief, loss, and first love with the help of her favorite book, Alice in Wonderland. This audiobook encourages us all to celebrate the transformational power of the imagination, even in the harshest of times.
---
"You Are in Love"
Taylor sings of love in all its wondrous shades, and in "You Are in Love", recounts a happy couple falling in love and finding forever together. Helen Ellis can relate. In Kiss Me in the Coral Lounge, she finds that her husband can still make her heart pitter patter even twenty years into marriage. This memoir paints a portrait of true romance for times in these frank essays about love, marriage, and her last first kiss.
---
"New Romantics"
"The rumors are terrible and cruel, but, honey, most of them are true." Taylor might be singing about the weight of fame here, but who would understand that better than the characters from our favorite myths? In this vivid and moving reimagining, Medusa's Sisters, who history forgot, and poets diminished, reclaim their sisterhood and individuality, myth and truth, and vengeance and peace.
---