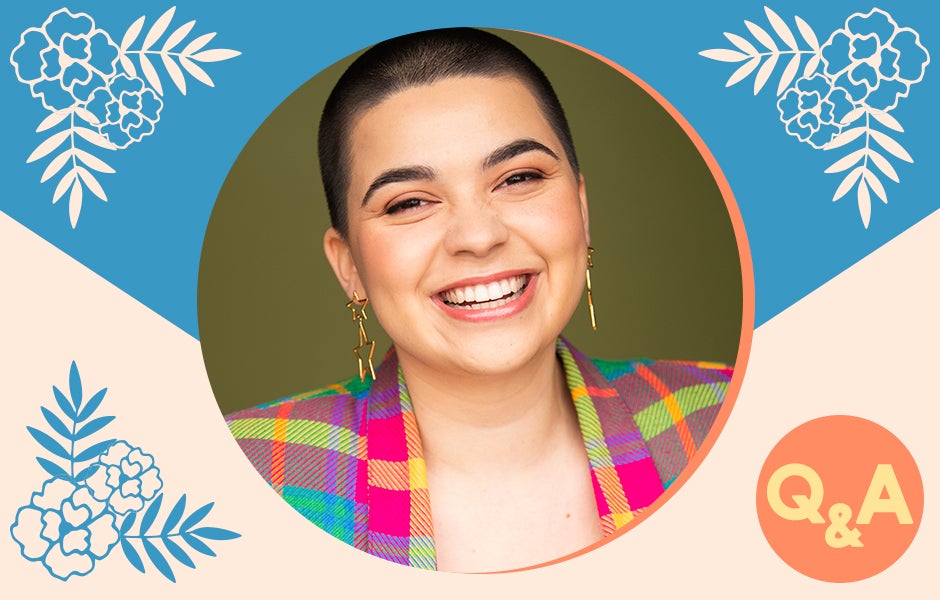 ---
Elena Rey (they/she) is a queer, biracial-Latinx, performer, theater artist, voice actor, and Earphones award-winning narrator. Since completing Penguin Random House Audio's Narrator Mentorship Program in 2022, Elena has recorded numerous audiobooks for Penguin Random House, Harper Audio, and Hachette Book Group.
We caught up with Elena to talk about identity-centric stories and the shift beyond them, Latin and Hispanic Heritage Month recs, and a recent piece of work they're very excited for you to listen to (hint: yeehaw 🤠).
PRHA: Hi, Elena! I'm so excited to talk with you. To kick off our Q&A, could you share with us your getting ready process for narrating audiobooks? Does your approach differ between narrating for adult titles and kids' titles?
Hello! I'm so excited to share! My process typically looks like this: after one or two read throughs and getting all my pronunciation questions out of the way, my next step is always color coding—I highlight each character in a different color. I recently learned that not every narrator does this! But I am a very visual person so this is a MUST for me.
Sometimes, if I have enough time and feel called to, I'll make a special Spotify playlist based on the book for my commute to the studio. Choosing which songs to add helps me define the feeling of the book's world (or specific characters/moments) for myself. Listening to it before I record helps transport me right back into the book. Plus, it's just really fun for me to do!
As for my approach with kids' titles versus adult titles, the prep process is pretty much the same (look for pronunciations, highlight characters, come up with character voices), but the main difference is that I'll shift who I'm telling the story to in my mind. I've worked as an after school teacher for the past few years so, when narrating titles for kids, I imagine I'm telling the story to one of my book-club students. For adults, I imagine I'm telling the story to friends or family. Both deliveries are equally intimate and conversational, but the shift in imagined audience helps me create the appropriate tone.
PRHA: Your work on Felice and the Wailing Woman won an AudioFile Earphones Award! How do you make titles based in folklore (La Llorona in the aforementioned title, the Pied Piper in The Piper's Promise) your own?
I've been obsessed with the story of La Llorona for a long time. It's such an enduring tale that has countless fascinating renditions across mediums. I had a lot of fun with Felice because it was a reinvention of La Llorona from an entirely different perspective than the story is usually told from, complete with a whole world of wild characters who I had a blast voicing. Because there are so many different versions of La Llorona, I think that actually made it easier for me to make it my own. At the same time, I think it's not really about making the story my own, but about making it Felice's or Clare's (the protagonist of The Piper's Promise) or whoever the storyteller may be. In that sense, it's more about connecting to the narrator's reality than the folklore itself.
PRHA: We're in the midst of celebrating Latin & Hispanic Heritage Month! What does representation in the audiobook field mean/look like to you?
Representation is everything! As an educator I've had the privilege of seeing how impactful representation in audiobooks (and all media) can be for our youth. As a narrator, it is a really special experience to voice characters with whom I share identity and to tell stories that resonate with me deeply. I often find myself narrating stories (YA and middle grade in particular) and getting emotional because they're stories I wish I could've read as a kid or teen. I love narrating middle grade and YA for that reason. And getting to recommend books I've narrated to my students is such a plus.
There is no singular Latinx experience or story. Representation for me is about being able to bring a wide variety of stories to life. I love narrating identity-centric stories where a character connects with their history and learns about themselves and I also love the shift beyond identity-centric stories, where a character's identity is just a thread in the tapestry of their story rather than the sole focus. A vampire slayer who happens to be half Mexican (like me!) or a student navigating a mysterious magical boarding school who happens to be non-binary. Then when a story hits an intersection of my identity (Latinx AND queer!) as in Lucha of the Night Forest, it's just extra magical.
PRHA: The Penguin Random House Audio mentorship program is an initiative in which actors new to audiobooks work with our team of producers over a six-month period to strengthen their craft and gain industry knowledge.
Can you share about your experience with the PRHA mentorship program? What was your biggest takeaway?
I feel so lucky to have done the PRHA mentorship program. It was absolutely pivotal in my career and opened a lot of doors for me. The program connected me to a welcoming and supportive network of collaborators, fellow narrators, and producers, which has been invaluable.
My biggest takeaway was around the work my mentor and I did on how to market and represent myself. Being as specific as possible when describing myself and my interests, and choosing demo pieces that I connect with deeply has allowed producers to find me more easily for projects that I might be the right fit for. It's all about showcasing your wonderful talents and unique interests or areas of expertise!
(aspiring narrators: learn more about the PRHA mentorship program here!)
PRHA: Is there a recent scene or character that you've particularly loved recording? What about that scene or character are you most excited for listeners to hear?
Yes! Voicing Bridget in the western novel Lucky Red was such a treat! I had so much fun getting to do a southern accent for the whole book. Bridget is spunky and gutsy and flawed and so full of heart. I loved bringing her inner world to life. I'm particularly excited for listeners to hear any scene between Bridget and her love interest, the iconic, gun-slinging Spartan Lee. I won't give anything away, but their story is steeped in queer desire, some classic wild west drama, and a whole lotta spice.
PRHA: What is one title you think everyone should listen to during Latin and Hispanic Heritage Month, and why?
The wonderful thing is that there are incredible Latinx stories in every genre. While I don't think I could come up with a title that would appeal to everyone I will certainly be recommending some YA (with romance, of course!) because that's my genre of choice. I absolutely loved The Lesbiana's Guide to Catholic School by Sonora Reyes, beautifully performed by Karla Serrato. It's tender, awkward, queer, and pulled all my heart strings. The story perfectly captures the emotional rollercoaster of being 16 at a new high school with a new crush.
Press play on audiobooks narrated by Elena Rey!
---