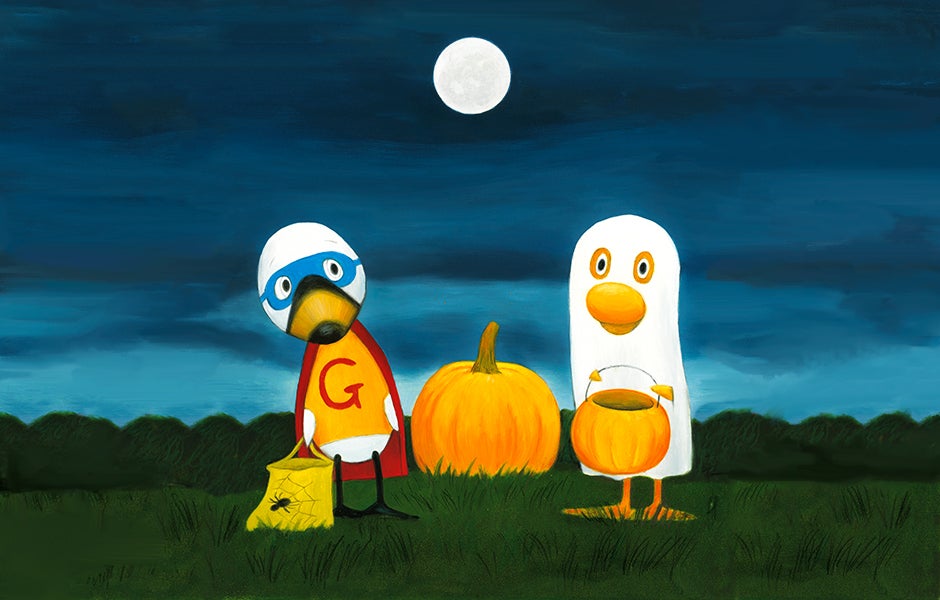 ---
As any pumpkin spice-addled caregiver knows, Halloween isn't all about scary monsters and haunted houses. For little ones, celebrating the sweet side of the holiday can mean playing dress-up, baking and crafting together, and discovering the endless possibilities of gourd-based decor. Not to mention C-A-N-D-Y. It's also a great time for listening to stories, especially when winding down from all the battiness. In that spirit, here are a few of our favorite picture book-length audiobooks for a spook-free good time featuring animal pals, friendly witches, and one perfect pumpkin.
🎃🎃🎃
Duck & Goose: Honk! Quack! Boo!
It's Halloween in the meadow, and feathered friends Duck and Goose are going trick-or-treating. But what will they do when they hear a very scary swamp monster is looking for them?
Uni the Unicorn: The Haunted Pumpkin Patch
Uni is planting a pumpkin patch, and Uni's friend Goldie thinks she saw something spooky… What could it be?
Sophie's Halloween Disguise
On Halloween night, Sophie and Grover trade her wooly mammoth costume for his black widow spider disguise. But when a giant squid opens the door to greet the trick-or-treaters at Grandma's house, it's Grandma who has the last laugh.
Room on the Broom
The witch and her cat are happily flying through the sky on a broomstick when the wind picks up and blows away the witch's hat, then her bow, and then her wand! Luckily, three helpful animals find the missing items, and all they want in return is a ride on the broom. But is there room on the broom for so many friends?
Purrmaids #11: A Purr-fect Pumpkin
Chapter book readers' favorite kitten mermaids are back to celebrate Paw-loween! In Kittentail Cove, Shelly, Coral, and Angel can't wait to go to the Paw-loween festival—but Coral is a little nervous about the Haunted House. Can this scaredy cat learn to be brave so she can see her purr-fect pumpkin on display in the house?
A Super Scary Narwhalloween
This one's for slightly older kids who are getting into chapter books, and especially graphic novels. Read by a full cast and fully adapted for audio, listen in as Narwhal and Jelly celebrate the spookiest time of the year—Halloween—with a super twist!
---