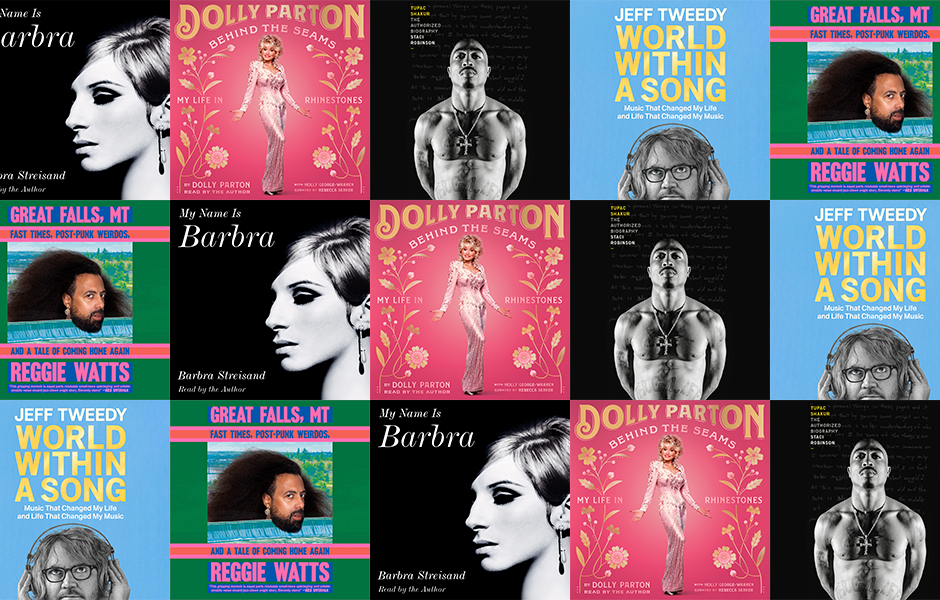 ---
Barbra Streisand. Tupac Shakur. Dolly Parton. Bono. Yes, we're activating legend mode here and talking about audiobooks that not only go behind the music, but are works of art on their own. My Name Is Barbra features 46 song excerpts and multiple adlibs that are not in the printed book. Decades in the making, Staci Robinson's remarkable biography Tupac Shakur was written with the support of Tupac's mother, Afeni Shakur, creating an intimate portrait of an artist gone much too soon. And in Behind the Seams Dolly Parton is nothing less than a "walking, talking, drawling, singing, laughing celebration of the human spirit — in rhinestones" (The Washinton Post). Listen to clips from these audiobooks below, plus discover audiobooks from Bono, Michelle Zauner, Reggie Watts, and more.
My Name Is Barbra by Barbra Streisand
Barbra Streisand is by any account a living legend, a woman who in a career spanning six decades has excelled in every area of entertainment. She is among the handful of EGOT winners (Emmy, Grammy, Oscar, and Tony) and has one of the greatest and most recognizable voices in the history of popular music. In My Name Is Barbra she shares her story, along with exclusive anecdotes and music, creating a listening experience as iconic as the star herself.
Tupac Shakur by Staci Robinson
Tupac Shakur is one of the greatest artists of all time. And more than a quarter of a century after his tragic death in 1996, he continues to be a complicated and immensely influential figure. Drawing on exclusive access to Tupac's private notebooks, letters, and uncensored conversations with those who knew him best, Tupac Shakur paints the fullest and most intimate picture to date of the young man who became a legend for generations to come.
Behind the Seams by Dolly Parton
Featuring behind-the-scenes stories from Dolly Parton's life and career, this audiobook spotlights her most unforgettable looks from the 1960s to the present. The sky-high heels, famous wigs, bold makeup, eye-catching stage clothes—she shares them all. Filled with candor, humor, and lots and lots of rhinestones, Behind the Seams is a shining tribute to one of the most beloved musicians in history.
Surrender by Bono
Throughout a remarkable life, music has always been a constant for Bono and in Surrender his distinctive voice is interwoven with a very personal soundtrack adding atmosphere and texture to each and every scene. From moments of classic U2 hits to snippets by The Clash, Patti Smith, Verdi, Johnny Cash and Mozart, Surrender also exclusively features clips of newly recorded reimagined versions of U2 songs including 'Sunday Bloody Sunday', 'With Or Without You', 'One', 'Beautiful Day' and more, glimpsed for the first time on Surrender: 40 Songs, One Story.
Crying in H Mart by Michelle Zauner
In this exquisite story of family, food, grief, and endurance, indie rockstar Michelle Zauner's voice is as radiantly alive in the audiobook as it is onstage. Rich with intimate anecdotes that will resonate widely, Crying in H Mart is an unforgettable and moving listening experience.
World Within a Song by Jeff Tweedy
What makes us fall in love with a song? After two New York Times bestsellers (Let's Go (So We Can Get Back) and How to Write One Song), Jeff Tweedy is back with World Within a Song, another disarming audiobook about why we listen to music. Featuring fifty songs that have both changed Jeff's life and influenced his music, World Within a Song is a mix of the musical, the emotional, and the inspirational in the best possible way.
Broken Horses by Brandi Carlile
In Broken Horses, six-time Grammy Award–winning singer, songwriter, performer, and producer Brandi Carlile takes listeners through the events of her life that shaped her very raw art, from her start at a local singing competition to her first break opening for Dave Matthews Band, to many sleepless tours over fifteen years and six studio albums, all while raising two children with her wife, Catherine Shepherd.
Great Falls, MT by Reggie Watts
Comedian and musician Reggie Watts is weird. But you knew that. Anyone who's seen his multifaceted, entirely improvised comedy and music shows knows that. Reggie Watts is also from the town of Great Falls, MT.  These two facts are not unrelated. In Great Falls, MT he shares his story of growing up in Montana as a biracial oddball struggling to navigate life, girls, drugs, and his own identity in America's heartland—and having a blast doing it.
Don't Tell Anybody the Secrets I Told You by Lucinda Williams
In Don't Tell Anybody the Secrets I Told You, iconic singer-songwriter and three-time Grammy winner Lucinda Williams opens up about her traumatic childhood in the Deep South, her years of being overlooked in the music industry, and the stories that inspired her enduring songs in this "bracingly candid chronicle" (The Wall Street Journal).
Sonic Life by Thurston Moore
From the founding member of Sonic Youth, Sonic Life is a passionate memoir tracing the author's life and art—from his teen years as a music obsessive in small-town Connecticut, to the formation of his legendary rock group, to thirty years of creation, experimentation, and wonder.
---