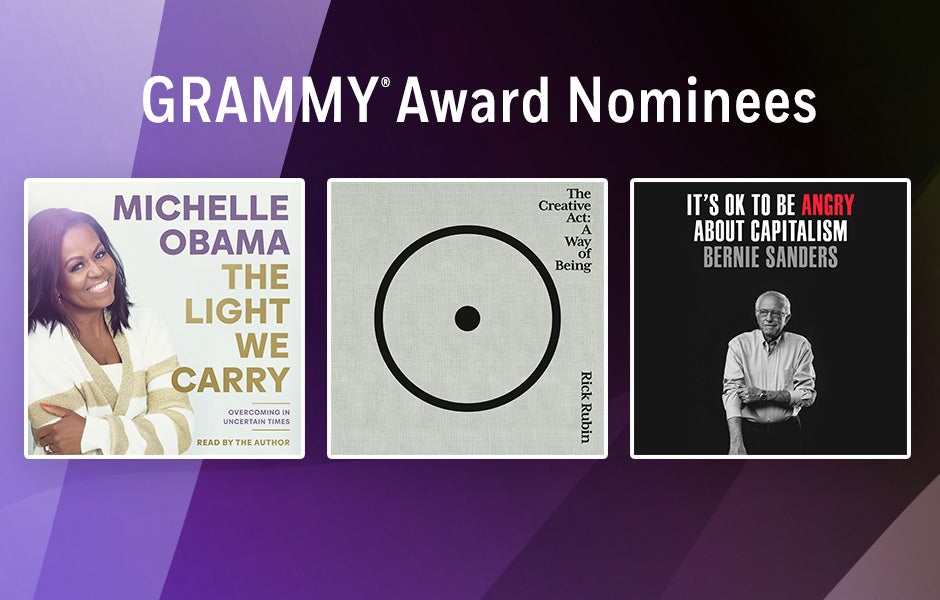 ---
The Light We Carry by Michelle Obama
The #1 New York Times audio bestseller The Light We Carry is former First Lady Michelle Obama's inspiring follow-up to her acclaimed memoir Becoming, in which she shares practical wisdom and powerful strategies for staying hopeful and balanced in today's highly uncertain world. Drawing from her experiences as a mother, daughter, spouse, friend, and First Lady, she shares the habits and principles she has developed to successfully adapt to change and overcome various obstacles—the earned wisdom that helps her continue to "become." Mrs. Obama won a GRAMMY® in 2020 for her narration of Becoming, and her book about the White House Kitchen Garden, American Grown: The Story of the White House Kitchen Garden and Gardens Across America, was a Best Spoken Word Album nominee in 2013. 

Listen to a clip from The Light We Carry:
---
The Creative Act by Rick Rubin
Rick Rubin is a legendary music producer and a master at helping people connect with the wellsprings of their creativity. The Creative Act was a project many years in the making that offers that same deep wisdom to everyone, distilling the knowledge Rubin gleaned from a lifetime's work into a luminous listening experience that puts the power to create moments—and lifetimes—of exhilaration and transcendence within closer reach for all of us. This is Rubin's 19th GRAMMY® nomination; he has nine previous wins. In 2016, Rubin was honored with the Recording Academy®'s President's Merit Award during the Producers & Engineers Wing's annual GRAMMY® Week event in recognition of his creative and sonic excellence and ongoing support for the art and craft of recorded music. 

Listen to a clip from The Creative Act:
---
It's OK to Be Angry About Capitalism by Bernie Sanders
It's OK to Be Angry About Capitalism is Senator Bernie Sanders' progressive takedown of the uber-capitalist status quo that has enriched millionaires and billionaires at the expense of the working class, and a blueprint for what transformational change would actually look like. Reflecting on our turbulent times, he reveals what would be possible if a political revolution took place, if we would finally recognize that economic rights are human rights, and if we would work to create a society that provides a decent standard of living for all. It is not some utopian fantasy; it is democracy as we should know it. This is Senator Sanders' second GRAMMY® nomination; his book Our Revolution: A Future to Believe In was a Best Spoken Word Album nominee in 2018. 

Listen to a clip from It's OK to Be Angry About Capitalism:
---
The nominations were announced via livestream today by the Recording Academy®. The 66th Annual GRAMMY Awards® will be broadcast live from Los Angeles on Sunday, February 4. Penguin Random House Audio titles have previously earned 17 GRAMMYs®, including the 2021 Best Spoken Word Album winner, Rachel Maddow's Blowout, and 52 additional GRAMMY® nominations.
---
---