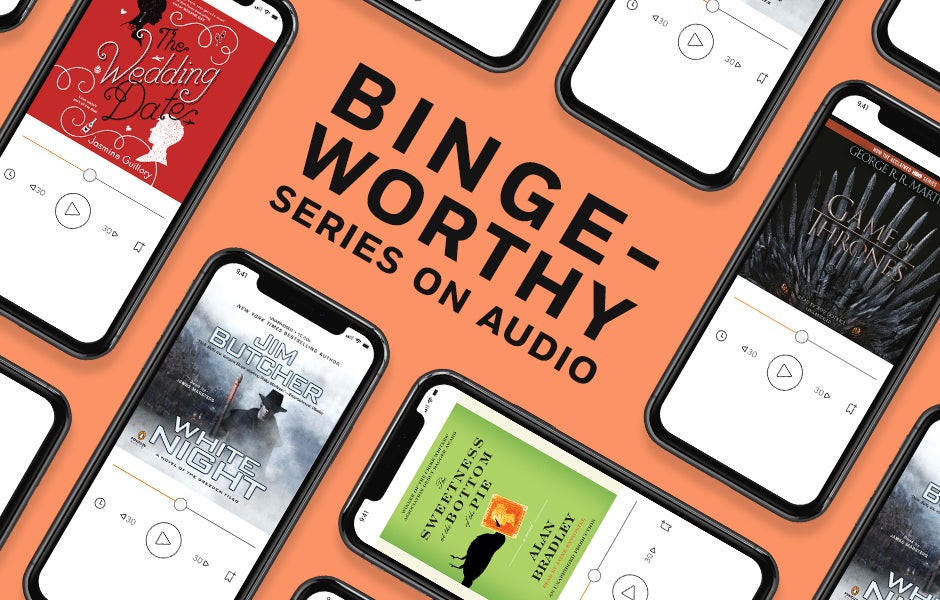 ---
A wizard private eye who tracks baddies on rainy Chicago streets. The war games and dragon banes of Westeros. A fearless 11-year-old sleuth upending the 1950's English countryside. A meet-cute that leads to a world of swoony romance.
Whatever hooks your line, there's an audiobook series waiting to reel you in. Full of complex characters you'll love, hate, or want served on a plate, when you're looking for full story immersion, look here.
The Dresden Files series
When strange things are afoot, wizard Harry Dresden is here to help in this #1 New York Times bestselling series Entertainment Weekly describes as "Buffy the Vampire Slayer starring Philip Marlowe."

"What's not to like about this series?…It takes the best elements of urban fantasy, mixes it with some good old-fashioned noir mystery, tosses in a dash of romance and a lot of high-octane action, shakes, stirs, and serves."—SF Site
A Song of Ice and Fire (starting with A Game of Thrones)
Love the HBO series Game of Thrones but have never read the books? It's high time to change that. Listen to Roy Dotrice read George R.R. Martin's masterpiece and get ready to disappear for awhile.

"If you're looking for a series full of political intrigue, class struggle, immovable forces of fate, and a struggle for power of epic proportions, this is it…Roy Dotrice has a gruff voice and style that is right at home in this harsh environment. He gives voice to a broad cast of characters with great range."—AudioFile
The Flavia de Luce Mysteries (starting with The Sweetness at the Bottom of the Pie)
It's the summer of 1950, and at the once-grand mansion of Buckshaw, young Flavia de Luce, an aspiring chemist with a passion for poison, is intrigued by a series of inexplicable events—starting with a dead bird…and a dead man. If you like British cozy mysteries, the hunt for your next listen stops here.
Romances by Jasmine Guillory (starting with The Wedding Date)
In The Wedding Date, a groomsman and his last-minute guest discover if a fake date can go the distance. And once you listen to this swoon-worthy rom-com by New York Times bestselling author Jasmine Guillory, you're going to want to hear a whole lot more…
Dooku: Jedi Lost (Star Wars)
The Star Wars audiobook universe is legion, and there's perhaps no better place to start listening than Dooku: Jedi Lost, a full-cast audiobook original. Caught between the world of the Jedi, the ancient responsibilities of his lost home, and the alluring power of the relics, Dooku struggles to stay in the light—even as the darkness begins to fall. And for those of you who want to listen to all the Star Wars adventures in order, here's the Star WarsTM Canon Audiobook Timeline.
The Mercy Thompson series (starting with Moon Called)
Mercy Thompson is a shapeshifter, and while she was raised by werewolves, she can never be one of them, especially after the pack ran her off for having a forbidden love affair. So she's turned her talent for fixing cars into a business and now runs a one-woman mechanic shop in the Tri-Cities area of Washington State. And that's all we're going to tell you, except that things. Get. Good.
The Thursday Murder Club Mysteries
In a peaceful retirement village, four unlikely friends meet weekly in the Jigsaw Room to discuss unsolved crimes. They call themselves the Thursday Murder Club, and the will soon find themselves tasked will solving murders in their own back yard…
The Peter Ash novels (starting with The Drifter)
Once you meet Peter Ash in The Drifter, there's no going back to other thrillers. At least, not for awhile.

"A powerful, empathetic, and entertaining tale about the plight many combat veterans face when they come home from Iraq and Afghanistan. Top-notch storytelling."—Kirkus Reviews (starred review)
The Maggie Hope mysteries (starting with Mr. Churchill's Secretary)
In Mr. Churchill's Secretary, Susan Elia MacNeal blends meticulous research and psychological insight, and the result is a suspenseful historical mystery with plenty of bite—and a feast of sequels.
The Magicians Trilogy (starting with The Magicians)
This New York Times bestselling series about a young man practicing magic in the real world is now an original series on SYFY.

"The Magicians is to Harry Potter as a shot of Irish whiskey is to a glass of weak tea…Hogwarts was never like this."—George R.R. Martin
---